Designinverso.it: the new e-commerce website by FST Studio
Designinverso is an Italian fashion brand who produces joyous and colorful bags. 100% Made in Italy, Designinverso bags distinguish themselves for the contrast between innovation and vintage. PVC and the variety of colors they are available in contrast with the quilted design, iconic pattern with a touch of retro.
For this company we have developed a tailor-made e-commerce website in order to enhance the digital presence and web image of the Designinverso brand.
This platform has been designed to promote their products to international end users, for whom Made in Italy has always been synonymous with high quality, exclusiveness and attention to detail. We have thus developed an e-commerce website available in 4 languages.
The online store www.designinverso.it goes alongside with its institutional website www.designinverso.com, developed by FST Studio too. A shopping platform focused on the ease of purchase. Customer experience is pleasant because you can proceed to checkout in few clicks.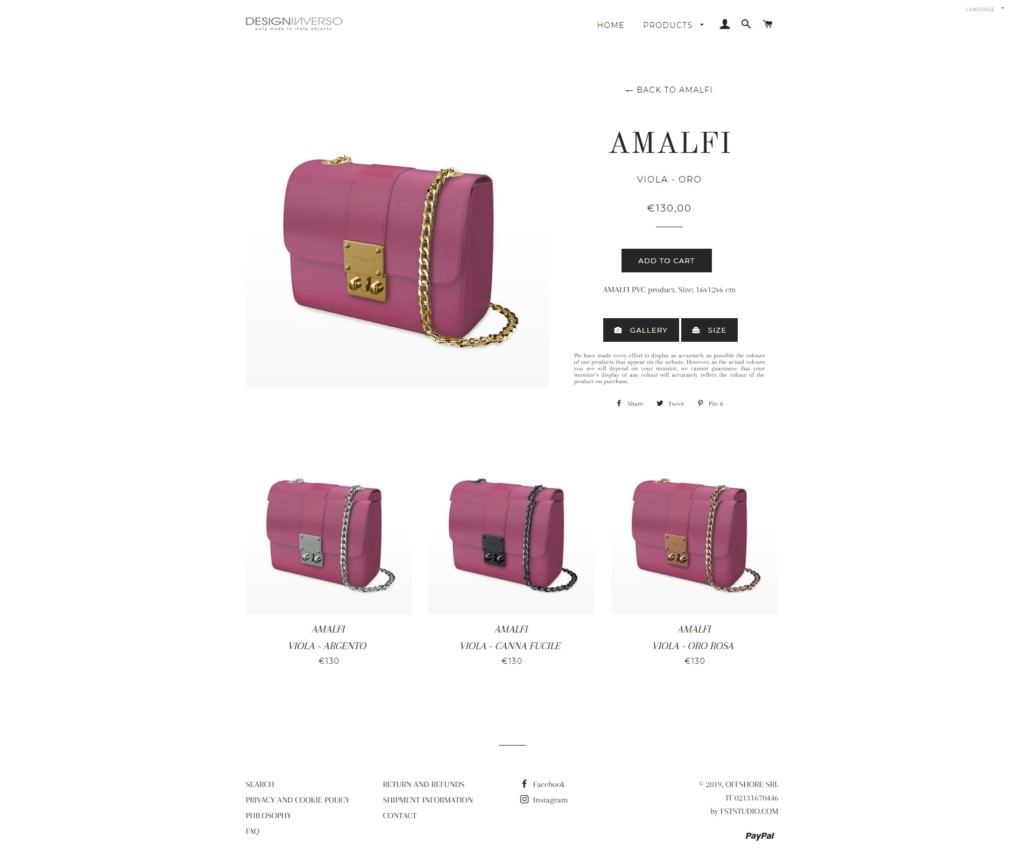 The real challenge of this project was to represent graphically their models for each variant of color and  shoulder strap.
32 colors and 4 shoulder straps available for each one of the 9 models.
How to represent more than 1000 bags in the same position and with the same light in the quickest way? Not to mention photos from different perspectives…
We have thus resorted to 3D graphics. This way we had to model only 9 models, because renderings allow to create a lot of chromatic variants and accessories in few clicks. Shooting single pictures of more than 1000 bags would have been a laborious task, to say the least, and we would not have reached a perfect outcome in any case: it is impossible to expect the same light and position in more than 1000 photos!
3D technology, instead, ensures a photorealistic quality and does not show the flaws of traditional photography. Recreating an object with 3D technology means being able to rotate and view it from any perspective. Consequently it  is possible to extract images from any perspective.
We have integrated a live chat service in order to answer instantly to users' potential doubts.
Our project is completed with a 2D configurator developed for internal use in order to assess the combinations of colors for the launch of the new collection.
The final outcome is a complex and varied project containing specific solutions on different fronts.
Visit the e-commerce website developed by FST Studio on www.designinverso.it
FST Studio carries out tailor-made projects for your company.
Do you need an e-commerce site? Do your products have many color combinations or accessories?
Contact us for more information or to request a free consultation: we will assess the solution which best fits your needs.
---